Shutterstock
There are plenty of gems coming to Netflix this month – Bad Santa and The Matrix, to name a few. Jackie Brown? Yasssss!
Here's the full list of what's coming in August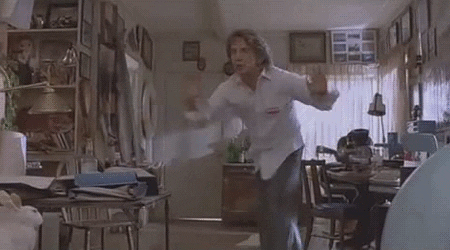 Innerspace is coming to Netflix in August!
8/1/17
A Cinderella Story
Bad Santa
Cloud Atlas
Crematorium: Season 1
Everyone's Hero
Funny Games (US)
Innerspace
Jackie Brown
Lord of War
Maz Jobrani: Immigrant —  NETFLIX ORIGINAL 
Nola Circus
Opening Night
Practical Magic
Sleepy Hollow
Small Soldiers
Surviving Escobar – Alias JJ: Season 1 — NETFLIX ORIGINAL 
The Addams Family
The Astronaut's Wife
The Bomb
The Hollywood Masters: Season 1
The Last Mimzy
The Matrix
The Matrix Reloaded
The Matrix Revolutions
The Number 23
The Royal House of Windsor: Season 1
The Truth About Alcohol
The Wedding Party
Tie The Knot
Who Gets the Dog?
Wild Wild West
Avail. 8/2/17
Jab We Met
The Founder
Avail. 8/3/17
Sing
The Invisible Guardian
Avail. 8/4/17
Icarus — NETFLIX ORIGINAL
Voltron: Legendary Defender: Season 3 — NETFLIX ORIGINAL
Wet Hot American Summer: Ten Years Later: Season 1 — NETFLIX ORIGINAL
Holes made the list of August movies!
Avail. 8/5/17
Holes
Avail. 8/8/17
My Little Pony: Friendship Is Magic: Season 7 Episodes 1-13
Avail. 8/9/17
Black Site Delta
Avail. 8/10/17
Diary of an Exorcist – Zero
Avail. 8/11/17
Atypical: Season 1 — NETFLIX ORIGINAL 
Home: Adventures with Tip & Oh: Season 3 — NETFLIX ORIGINAL
Naked — NETFLIX ORIGINAL FILM
True and The Rainbow Kingdom: Season 1 — NETFLIX ORIGINAL
White Gold — NETFLIX ORIGINAL
Avail. 8/13/17
Arthur and the Invisibles
Hot Property
Mission Control: The Unsung Heroes of Apollo
Avail. 8/14/17
The Outcasts
Urban Hymn
Avail. 8/15/17
Barbeque
Brad Paisley's Comedy Rodeo – NETFLIX ORIGINAL 
21
A New Economy
All These Sleepless Nights
Donald Cried
Murderous Affair: Season 1
My Ex-Ex
The Sweet Life
Avail. 8/16/17
Gold
Avail. 8/18/17
Dinotrux: Season 5 — NETFLIX ORIGINAL 
Glitter Force Doki Doki: Season 1 — NETFLIX ORIGINAL
I Am Sam
Marvel's The Defenders: Season 1 —  NETFLIX ORIGINAL
What Happened to Monday —  NETFLIX ORIGINAL FILM
Avail. 8/19/17
Hide and Seek
Avail. 8/20/17
Avail. 8/21/17
AWOL
Bad Rap
Beautiful Creatures
Gomorrah: Season 2
Unacknowledged
Avail. 8/22/17
Lynne Koplitz: Hormonal Beast — NETFLIX ORIGINAL
Sadie's Last Days on Earth
Avail. 8/23/17
Feel Rich
Avail. 8/25/17
Disjointed: Part 1 — NETFLIX ORIGINAL
Death Note — NETFLIX ORIGINAL FILM
DreamWorks Dragons: Race to the Edge: Season 5 — NETFLIX ORIGINAL 
Once Upon a Time: Season 6
Avail. 8/29/17
Bring It On: Worldwide #Cheersmack
Ryan Hamilton: Happy Face — NETFLIX ORIGINAL 
The Good Place: Season 1
Avail. 8/31/17
Be Afraid
Comments